With more than 20,000 visitors from 50 countries, a new edition of the International Poultry and Pork Show was held in the city of Sao Paulo in Brazil, a country that has been consolidated as the largest chicken meat exporter and the fourth pork producer and exporter. Aimed at sector leaders, businesspeople, professionals, and academics from around the world, the show was an opportunity to exchange knowledge and boost the industry's competitiveness. This major event takes place in a country where all branches of government support the agricultural sector -particularly poultry and pig farming- because of its valuable commitment to food safety and the country's growth.
The 2022 edition of the International Poultry and Pork Show (SIAVS) was held from August 9 to 11, organized by the Brazilian Association of Animal Protein (ABPA), which brings together Brazilian poultry, pig and aquaculture producers.
After three years, SIAVS brought the entire Brazilian industry back together in Sao Paulo, alongside guests from around 50 countries, adding up to more than 20,000 visitors, 170 exhibitors, and 100 keynote speakers in three days. The inauguration was attended by Brazil's President, Jair Bolsonaro, seven of his cabinet members, and many representatives and senators from the country's agricultural states. The president thanked the industry for organizing an event that reinforces the sustainability of agribusiness both in Brazil and the region.
ChileCarne's President, Juan Carlos Domínguez, was one of the special guests from the Americas and Europe representing the industry. Domínguez said: "there is a clear commitment from the various branches of government and the agricultural sector in Brazil. Although they know there are still challenges related to the efficient use of natural resources, the protection of the environment and biodiversity, there is unconditional support for the agricultural sector, particularly the poultry and pork farming sector, acknowledging their commitment to food safety, the country's growth, and their duty to provide natural foods to Brazilians and to the world."
SIAVS 2022 included a fair, a congress, and a complete schedule for buyers, specialists, researchers, consultants, leaders, and students. The congress showcased the industry's prospects and facilitated a discussion on its current situation and the technical and economic challenges to preserving the sector's relevance, focusing on areas that promote an increase in poultry and pork production.
The fair hosted more than 200 companies and organizations, becoming Brazil's main event in technology and poultry and pig farming products, which offers unique opportunities for agribusiness producers and exporters.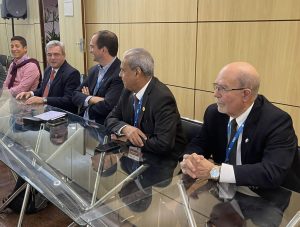 From left to right: Rodolfo Álvarez from Colombia; Ricardo Santin, President of ABPA; Juan Carlos Dominguez, President of ChileCarne; Ariel Méndez, Vice-president of ALA; and Joaquín Fernández from Uruguay.