The figures come from the study "Water Balance in the Chilean Pork and Poultry Sector" that analyzed 6 of the 9 main basins of the country's central macroregion at the request of ChileCarne in representation of the main white meat producers and processers with production facilities located between the Metropolitan and the Araucanía Region.
With the aim of identifying the water management challenges of the white meat sector and design the appropriate strategies to face Chile's drought, ChileCarne conducted the study "Water Balance in the Chilean Pork and Poultry Sector" to assess how much water is needed and what for, how much is being received, and whether there will be enough to conduct the sector's basic activities.
"For the pig and poultry production sector, water is an essential resource, key to meet the vital needs of the animals and industrial process. Updating existing data on water consumption and developing a national and river basin registry with data from pig and poultry producers is crucial for the industry's growth and sustainability," explained Juan Carlos Domínguez, ChileCarne's President.
The results of the study show that the industry's total water consumption reaches 18.1 million m3 per year, from which almost 2 million is used in poultry farms, 10.1 million in pig farms, and 6 million in slaughter plants.
The latest balance reveals that the sector has reduced water extraction by 6% by installing advanced treatment plants that allow for water recirculation throughout the production process. As a result of these processes, 56% of the volume extracted for production is used for crop fertigation or returned to surface watercourses in compliance with environmental regulations. Thanks to these measures, the white meat industry reuses and recirculates more than 62% of the water used in production. Therefore, the effective water consumption in the pig and poultry sector drops to just 6.93 million m3 once the water balance has been completed.
Finally, when calculating the sector's water demand within the macroregion's total demand, the figures show that the direct use of water in the pig and poultry sector represents 0.19% of the total demand in the area. This is in line with the conclusions of the First Report of the Water Working Group created by the Ministry of Public Works, where the distribution of consumptive water demand for 2020 places the livestock sector last at the national level.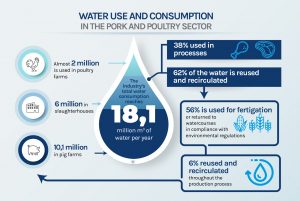 The industry's commitment continues with the participation of poultry and pig producers in the Chile Conscious Origin Program, which includes water efficiency requirements among its standards. For more information about the program and its scope, visit www.chileorigenconsciente.cl (in Spanish).